Well maybe not you but I know that I am. Show me a skinny woman and I will show you someone who desperately wants a donut. Yes, a donut.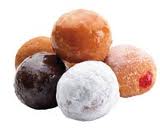 I never liked donuts and aside from the Dunkin Donut's Munchkins they had at  elementary school functions, I barely ate one until I was in my late teens and even then I didn't like them. Enter Krispy Kreme.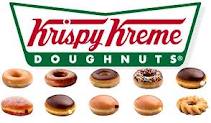 My now ex-boyfriend and I were on the road somewhere in the midwest when we started to run into them. The gleaming case of donuts was the edible equivalent of the display of a jewelry store. With so many delicious -looking varieties, it was difficult to decide which ones to get so we did what any sane person would do in that situation- we got over a dozen then ate most of them that morning. We were camping and didn't have a huge budget, so we did the same thing for the next few mornings until I finally said, "I think we should probably stop eating donuts. We might get fat or something."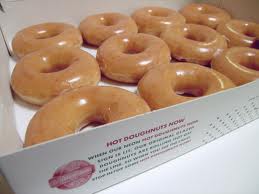 "Or something?"
"Ya. Diabetes."
"Oh."
To my astonishment, neither of us got fat (or diabetes, knock on wood), even though for the rest of our trip, every time we saw a Krispy Kreme we stopped. That was until we started to head Northeast and the Krispy Kremes started to slowly disappear.
There were only two Krispy Kremes in Connecticut, but one recently closed. Now the only Krispy Kreme in CT is at the Mohegan Sun Casino which is over an hour away from me. When my friends ask me to go to the casino, visions of donuts immediately pop in my head. Not slot machines, poker chips, or even alcoholic beverages. Nope. Donuts.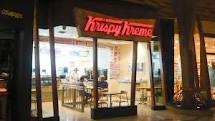 Once we get to the casino I try to avoid them, the donuts, but I soon find that they have conspired against me. The donuts are everywhere. Tiny shops are hidden where you'd least suspect them. The only one that is easy to avoid is the great big factory shop announces its presence when you first walk in, and I only say it's easy to avoid because I know where it is.
I reason with myself. I could get a dozen. No, that's a very bad idea. But you could freeze them and eat them at a later date. They would last for months! Who are you kidding? Don't you know me? Okay, okay, chill.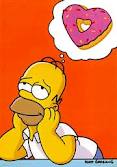 Inevitably I end up back in front of that huge Krispy Kreme storefront because it is near where we get our car from the valet. Now that's class. Nothing says classy like valet parking and Krispe Kreme donuts. It is the perfect marriage of opposites. Because it takes so long for the valet to bring the car around, I end up in line staring over the mouthwatering donuts like Homer Simpson circa 1995. In recent times I have never bought more than one or maybe two donuts because my metabolism has caught up with me. That doesn't stop me from finding other confections…
Waterbury, CT has good Italian food, and even better Italian pastries. A few weeks ago I got hooked on Italian cookies. I was trying to be nice, so I stopped by my favorite Italian bakery to pick up a few things for my mom and my grandmother but Italian cookies caught my eye and shone like tasty jewels. I bought half a pound of them –to share.
I am half Polish, and my family and I recently went down to New Britain, Connecticut for dinner. New Britski is a city with one of the biggest Polish populations, excluding Chicago and Buffalo, NY, of course. Just walking down the main road, Broad Street, gives you the feeling that you are in Europe. With Polish flags and few English-speaking citizens, it's easy to imagine. Broad Street is lined with butchers, bakers, and candle stick makers. There are no Super Stop and Shops or large box stores on Broad Street that detract from this rue's European charm. Did I mention that there are donuts?
Not exactly donuts but paczki (pronounced punski). They are very simple donuts, almost like a jelly donut, but with half the sugar. The are lightly fried and filled with raspberry, strawberry, of prune filling (prune being the traditional Polish filling). They are then sprinkled with powdered sugar and good to go. They are pretty tasty and sometimes undercooked and doughy, which is the way that I like them. They also sell a very delicious bread made of poppy seeds and ground raisins. This is about as close as to the old country I can get these days. My Polish grandmother, or babchi, has been dead for almost six years now, but she used to make traditional Polish babka. I think babka translates to cake, though Google translate is insisting it translates to "grandmother," while another search engine says that it means "plantain." They don't grow plantains in Poland but they do make cake, whatever…
Traditionally, Polish babka is a dessert bread stuffed with farmer's cheese and golden raisins. It is luminous once it is pulled from the oven, the egg wash making it very shiny. My grandmother only made babka around the holidays that observed something Christ-related, Christmas, Easter. It has been several years since I had her babka, but it is probably better that way. If you've read the 5 paragraphs before this one, you should be able to understand why.
While my grandmother made the traditional Eastern European type of babka, there are other varieties. A few weeks ago, when I was in Target I found this amazing bread called mocha bread. It was very dense and sweet. Like a strudel it was topped with brown sugar crumbs. This type of bread is actually a variation of the Jewish version of babka. It is made from a twisted dough and often comes in delicious varieties of chocolate of cinnamon flavors. At target they even had a blueberry crumb and cinnamon raisin variety. I guess I am kind of a foodie and though I have driven to a variety of places to get my sugar fix, it is good to know that I can find quality babka as close as my local Target -where I can often be found in the shoe (and now) bakery section. 
I don't know about you, but I am kind of hungry now… Please share with me in the comment section- what's your sugar weakness?
Don't forget to subscribe or to Like Hayley's Comments on Facebook!