My Spring frock came from Ross Dress For Less. I love that place. It is a zoo but I know it so well now that I can get in and get out quickly. I could spend lots of money there that I do not have. But I got this dress for less than twenty bucks and it made me happy.  I had it tied around my waist and that tie came undone at the gas station.  I didn't realize it was hanging half off of me as I went into the station to pay my bill.  This dress is trouble.  I wore it to a community dinner at my Mom's and I felt good in it and got a compliment from her which is rare.  But what I really wanted to do was share my new dress with a lover.  I know I would enjoy vamping around the living room showing it off to a fun fellow but there is no one like that in my life right now and that makes me sad.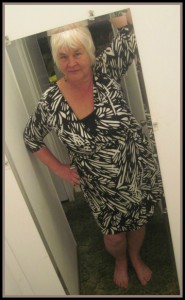 So I vamped in front of my hallway mirror and got some great shots.  Playing around with my camera is one of the things I love to do.  I did not use my self timer this time but I have figured out how to twist around so that the camera is not in the scene with me while I pose in the mirror.  I must have taken about twenty photos and I had fun.
I went to Picnik and and put frames on them and sent some to three fellows in Second Life. Then I put them on my Match.Com profile and one of them was rejected. This one…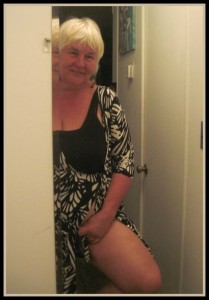 That was very interesting to me and I am coming to the conclusion that Match.com is boring and irrelevant to my life. Stuck up rich guys looking for Barbie Dolls. I am not doing anything really risque in this photo but it is just the suggestion of it apparently that ruffled their feathers.  So I decided to post my rejected photo on Craigslist. It was about 8pm at night.
"See the Photo Match.Com Rejected." In about one minute I had five responses. "Wanna Hook Up?" "Cute" etc. Craigslist is local and immediate. Kind of addicting for…some people. I try hard to stay away and I hadn't posted for many months.
The story gets complicated now. I had a four fellows that I know contact me within the five minutes that I had my photo on Craigslist. One was the 35 year old who helped me about four times after my boyfriend died. The other was a Texan who came by twice and gave me a massage when he was in San Diego for business. The Third and I never met but he wants me to go to a Drive In Movie in May and he sent me an invite to a .
I took my ad down after just five minutes because of my fourth friend. He is a fellow I talked to right after my boyfriend died and he was very nice to me in emails. He was sexy too and frankly that is what I was looking for back then to counteract the trauma of my friends death. He and I made about six plans to meet and each one fell through.
It seems to me that sometimes that karma does not allow me to have a connection.  Potential lovers are screened by an unknown force that might be guarding me from harm.   However this fellow saw my picture on Craigslist and was sad because I hadn't picked him and I knew how much he wanted to meet me. It seems just impossible for us to arrange a meeting even after all these months.  We blew it again this weekend so we are back at zero and that is just fine with me.  He is trouble in so many ways and I don't need more of that but I am lonely and vulnerable.  I guard my heart and body closely.
I have fun with online dating. I like to put myself out there and see what I can find. However you have to be careful of people's hearts when you play. When people fall for someone they can fall hard. The emotions of hooking up are like playing with fire. No one needs to get burned but you have to know what you want.
I just wanted to show off my new dress. I pasted a photo on my Facebook page and got some great responses from friends and family. But a response from a lover is different.
My mother's friend wondered if I had a new boyfriend since I had a new dress.  "Do you?" my mother asked me today.  "Nope," I said, "No new boyfriend for me."  However I am having a great time mulling over who to do next.