Yesterday was my dog's birthday. Well, it would've been. I know I have told this story a million times but hear me out. I had always wanted a little girl dog. My parents took me to a farm. When we pulled up to it, you could see a small play pen in the yard holding three little white puppies. We got out of the car and the lady asked me to help her carry one of the puppies. She handed me one and when it looked into my eyes, for some reason I knew that this was the only dog for me. But it was a boy dog and I wanted a girl… I debated. I knew that if I didn't pick this puppy, based on whatever it was I saw in his eyes and him in mine, that I would regret it for the rest of my life. I am glad I listened to my heart that day.
I was so tired Saturday morning. QT Pie had been sick that night and I must've taken him outside five times. Well actually that could describe every night that week, him waking me up to take him outside five times… or maybe for the last month, I have lost track.  He was starting to get antsy again. I woke up and looked at him. He was staring at me. More like gazing, a loving gaze, really.
When I found out he had renal failure, a month or two earlier,  I spent the night alone crying in the living room. He soon appeared out of nowhere to comfort me like he always had. This of course made me even more upset. Whenever I cried, since I first got him as a 12- year old child, he would lick the tears off of my face and lay down next to me until I felt better.
So Saturday morning as he gazed at me, I petted his head and told him he was a good boy and that he was the cutest dog ever and that I loved him and then I kissed his nose. I wrapped him up in blankets and put him in another room so I could get some sleep. I had left him alone for about twenty minutes when I realized something was wrong. He was shaking, having some sort of seizure. I asked him if he was ok, but he looked through me not at me. I held him and petted him. I was kind of begging him to stop shaking and telling him it would be okay that he was a good boy. This went on for ten or fifteen minutes and then he slowly moved as if he was stretching his body. He did this two or three times and during his final stretch I felt his body get lighter. I had had my hand on his heart the whole time, and I knew it had stopped beating, but in that final stretch I swear to God I felt his soul leave his body. Because after it left, he actually felt physically lighter and empty. A shell. My little boy was gone. All I had now was a shell.
I remember writing a post a few weeks ago pondering "Will I Recognize Love When I Find It?" I did with him, didn't I?
"Two roads diverged in a yellow road
and sorry I could not travel both."
I know now how to recognize love. Often time goes by slow and life is boring. Some days we count the minutes and hours awaiting a certain time so we could leave to go where? But I do know that when you are given love and give it in return with someone in a perfect sense, there will never be enough time together.
"And be one traveler, long I stood
and looked down one as far as I could
to where it bent in the undergrowth"
He and I came to a fork in the road. He waited with me at it for a little while because I wanted him to. I begged him to, actually. And he did. He waited for me as long as he could.
"Then took the other, as just as fair,
And having perhaps the better claim,
Because it was grassy and wanted wear;
Though as for that the passing there
Had worn them really about the same,
And both that morning equally lay
In leaves no step had trodden black.
Oh, I kept the first for another day!
Yet knowing how way leads on to way,
I doubted if I should ever come back."
And then he took the other path leaving me at the crossroads.
"I shall be telling this with a sigh,
somewhere ages and ages hence:
Two roads diverged in a wood, and I-
I took the one less traveled by,
And that has made all the difference"
He wanted to strike out a new path without me just about as much as I wanted him to leave. And the morning he died, I know now in retrospect that when I caught him gazing at me, he was trying to remember what my face looked like, because he knew that when he set off without me that he would miss me as much as I would miss him.  We didn't want to part with one another and now I am standing here alone. I am still here, at the crossroad. It is where I will stand alone until I find love again. When I do find it, I know that I will recognize it by the fact that there never be enough time for us to be together and when we inevitably do reach that awful fork in the road, the one who parts first will go as reluctantly as the one who stays behind.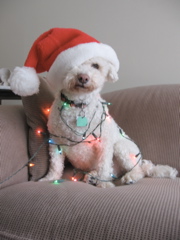 I love you QT Pie, and am sorry that you couldn't be here with me on your birthday…