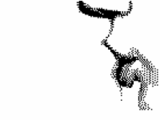 A nice dinner and a little walk primes my pump for a kiss.  When you meet someone on the internet you already know quite a bit about them and you like them.  So the face to face meeting is a little different from meeting for the first time and kissing.  I have had four kisses in parking lots this past year and they were all very good and led to absolutely nothing.
Joe looked like a great prospect because he reminded me of my old boyfriend. We had Mexican Food and talked about his service in Vietnam.  He knew things.  His job was intense now and he was still part of an operational team that was focused and severe except now he was selling commercial kitchen fixtures.  I liked his bravery and as we walked around the block I told him he was lucky to have survived.
"I just know how to run fast."  That is what I liked to hear.  He wasn't out to do anyone harm while he sidestepped thru the puddles and over the curbs nicely.  We held hands and I felt safe with him as the evening drew to a close and he walked me back to my truck.  When we kissed it was strong and satisfying.  I touched him and he invited me back to his place.  It was very tempting.  He lived just a few blocks away.  But I zoomed off in my truck and never saw him again.  I was glad I hadn't slept with him and never heard from him. Apparently he was one of those fellows who is just too busy being part of a team to see the value of one little lady's attention.