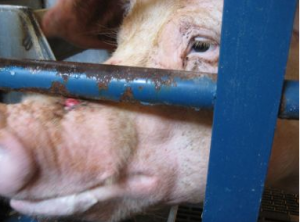 I received an email this morning from PETA. They are again combating a law that would prevent people from filming or photographing the interior of factory farms. It is too dangerous for these farms you see, rather than treat their animals humanely they would prefer to keep whistle blowers and their cameras out. Is humane treatment of farm animals too much to ask for? Apparently it is— so much to ask for in fact that these farmers are actually wasting the people of Iowa as well as their law makers time and money with attempts to legally ban these defenders of these abused farm animals. Wouldn't it be much easier to comply with the fair treatment and regulations created for these poor animals who already have a one way ticket to having their throats slit at the slaughterhouse? I've posted the contents of the email below and already contacted the governor to urge him not to enact this absurdity into law. I hope you will sign too. Shame on these farmers!
"We urgently need your help to stop House File (H.F.) 589, which has just passed in the Iowa legislature and has reached the governor's desk, from being signed into law. If signed, the measure would in effect prevent citizens from photographing or filming a farm without the farmer's consent and could stop vital undercover work that exposes routine abuse of animals in the factory-farming industry. This absurd bill is a fast and sly rewrite of a bill that was the subject of massive public outcry because it would have criminalized filming without a farmer's consent outright, and it is no more than a desperate attempt by agriculture industry giants to prevent consumers from learning the truth about the lives and deaths of animals on factory farms.
In 2008, prompted by a whistle blower's report, a PETA undercover investigation of a Greene County factory farm that supplied pigs for Hormel Foods revealed that workers were beating pigs with metal rods, sexually abusing them with canes, and more. Six workers received a total of 22 charges of livestock neglect and abuse, and all of them admitted guilt in the state's first convictions for abuse or neglect of factory-farmed pigs. This bill is designed to shroud factory farming in secrecy, and it could deprive animals of the already minimal protection that they have under the law and hide from the public the truth about what happens behind the closed doors of factory farms.
Even if you live outside of Iowa, your voice is still needed. The meat from slaughtered animals crosses state lines, and the governor needs to hear from consumers across the country who care about the way that animals killed for food are treated.
Please click here to contact Governor Terry Branstad right away and urge him to veto H.F. 589 and protect citizens' right to document and expose routine abuse of animals in the factory-farming industry.
Sincerely,
Dan Mathews
Senior Vice President
People for the Ethical Treatment of Animals"
You can copy and paste the following request into the letter to Governor Branstad or you can write your own.
"Dear Governor Branstad,
Pleas veto H.F. 589 and protect citizens' right to document and expose routine abuse of animals in the factory-farming industry."