Note: This is an article I am writing for a fellow blogger, Sharon Nesbit-Davis' blog.  She works and blogs for the Rockford  Arts Council of Rockford, Illinois.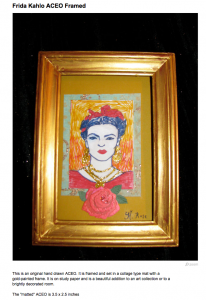 I had only been on Etsy for a little while when I decided I was going to delete my site- demolish it, actually, like a wrecking ball to a dilapidated building. You see, I'd been on there for almost 3 months and hadn't sold anything. Etsy is an online marketplace where artists can sell their goods. With sites like Etsy, long gone are the days where artists and artisans had to lend their goods out to shops and galleries on consignment to make a sale; a sale which sometimes costs the artist up to 50% of their sales revenue per item sold.
My family and I visited Salem, Massachusetts a lot when I was younger. There was this store on the corner of the main street that I always admired. Not only did it sell paintings and photography but a variety of colorful and unique home goods, really cool dishes, and a lot of handmade stuff. When the store was quiet, you could see the owner putting craft projects together and working on paintings at a little workstation in the center of the room. Sometimes she even had her baby with her cooing in the baby carrier slung across her back. I thought it was the coolest thing ever: to be able to do what you love in that capacity.
I wanted to one day have a store like this, a store where I could showcase and sell all my jewelry and paintings; things that otherwise sat untouched in boxes in my bedroom. I always wondered though, how would I ever be able to pay for such a thing. Rent wasn't cheap especially for commercial space. Again with places like Etsy, what used to be a necessary overhead costs were now almost gone. No more overhead- well not no more overhead,  but certainly no more overhead at those prices.
There are plenty of Etsy Success Stories out there, though I am not yet one of them. I say yet because I am tenacious and stubborn when I have a goal. You have to be. Etsy is a place where networking and getting your stuff out there seems to be one of the keys to succeeding.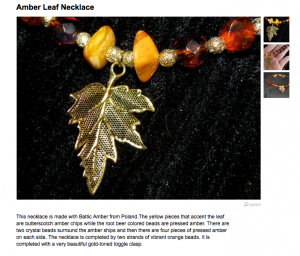 Etsy isn't free, but it is affordable. When you initially sign up, Etsy charges you a one-time fee of $1.01. For each item you list, it charges you $0.20 and the listing is good for 4 months (unless of course,  you sell the item sooner). Upon selling an item, Etsy takes 3.5% of your sale (excluding your shipping charges). Compared to having your own physical shop or even putting your stuff on popular auction sites, Etsy is a real bargain.
With Etsy, you can possibly reach more people than you would in a shop in your hometown or even a tourist destination, and it's important to note that even those stores often have websites. Etsy is a lot like regular stores in the sense that you cannot just put a few items up for sale and then sit back and relax (which was the initial error of my ways…).
On the day I was about to delete my Etsy account, I got an unexpected notice in my inbox. "You payment has been received and the money is in your PayPal account." Oh really? What scam of the week did this email pertain to? Out of curiosity, I opened the email and to my utter shock, I had actually sold something!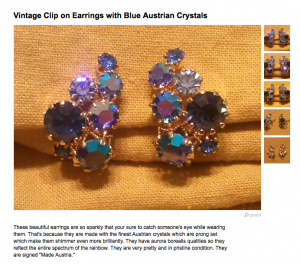 There are three categories of items that you can sell on Etsy and I am slowly conquering them all. You can sell "Supplies," which include things like beads and paper. I have even seen people sell things such as buttons, rocks and sea glass in the "Supplies" section. Then there is the "Vintage" category where you can list all things old and antique (well the rule of thumb here is that items must be 20 years old or older). Then of course there is the "Handmade" section in which the majority of items on Etsy can be categorized.
I have not had much Etsy success thus far, but I am not giving up. It beats doing craft fairs, though they too can be fun. It is nice when someone buys something from you and I find that I am usually more excited that someone likes my creation than the fact that I sold something and they just handed me over some money.
As an artist and even a writer, validation is sometimes few and far between. A lot of time is spent creating and a even more time is spent wondering if anyone even cares or is even paying attention. Am I doing this in vain? Maybe I should just delete my store/ blog/ (insert various creative endeavor here). It is usually during those times of doubt that the little miracles occur and someone says or does something encouraging without being prompted to do so.
As an artist and a blogger I have found that the most important aspect of my job is always saying thank-you and being gracious. It doesn't cost you anything and it lets the people who support you know that they are just as important in this process as yourself. Without supporters and fans of your work, it would be a very lonely existence. I will forever be most grateful for the wonderful people who read my blog and the encouragement I've received from them and fans of my writing and artwork.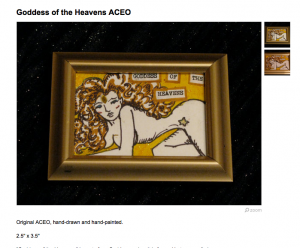 Hayley Rose Horzepa is the author of "I Know Why They Call a Shell a Shell' now available for download on Amazon. She is a blogger for several publications including The Huffington Post. She blogs almost daily on her blog Hayley's Comments and you can check out her Etsy Store, Her Royal Highness Art Cards and Gifts by following this link.