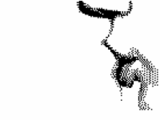 A nice dinner and a little walk primes my pump for a kiss.  When you meet someone on the internet you already know quite a bit about them and you like them.  So the face to face meeting is a little different from meeting for the first time and kissing.  I have had four kisses in parking lots this past year and they were all very good and led to absolutely nothing.
Joe looked like a great prospect because he reminded me of my old boyfriend. We had Mexican Food and talked about his service in Vietnam.  He knew things.  His job was intense now and he was still part of an operational team that was focused and severe except now he was selling commercial kitchen fixtures.  I liked his bravery and as we walked around the block I told him he was lucky to have survived.
"I just know how to run fast."  That is what I liked to hear.  He wasn't out to do anyone harm while he sidestepped thru the puddles and over the curbs nicely.  We held hands and I felt safe with him as the evening drew to a close and he walked me back to my truck.  When we kissed it was strong and satisfying.  I touched him and he invited me back to his place.  It was very tempting.  He lived just a few blocks away.  But I zoomed off in my truck and never saw him again.  I was glad I hadn't slept with him and never heard from him. Apparently he was one of those fellows who is just too busy being part of a team to see the value of one little lady's attention.
The second parking lot kiss was after a fellow bought me a beer in a local tavern and told me it was his last three dollars and he was going to have to ask his parents for more money.  He was fun on paper and I could tell he would be fun in bed but maybe he didn't realize that living in a friends' foreclosed house and not having a job was a turn off.  He sure had some sexy ideas  but it is always a smart idea to be a good listener so you can pick up the warning signs.  He had lots of red flags by the time we reached the parking lot and yet the kiss was energetic and exciting.  I am a sucker for anyone who is 6'2″ and he was really working me to take him home.  I jumped in my truck and zoomed away in one direction while I watched him drive away on the opposite path.  I knew then why it is nice when they don't know much about you and you meet in a public place.
I still wonder what happened to the third kisser.  We took a long romantic walk along Mission Bay as the sun was setting and the water sparkled.  The world melted away while we exchanged stories of our world travels and found so much in common to talk about.  He was the epitome of a laid back California dude and by the time we turned to walk back to the parking lot we were holding hands.  We leaned into each other after I opened the door to my truck and I kind of jumped on him.  That is why a 6'2″ fellow is so nice to stand next to and kiss.  They are strong enough to take me on.  He moved in for another kiss as I moved back towards the truck door.  We stood there for a long time talking about PDA's (public displays of affection).
Two ladies came by to get into the car next to us.  We hardly moved as they waved and sped away and two fellows were playing frisbee next to us so my new friend kept one eye on them.  I relaxed into our embrace knowing that he was watching out around us.  I fingered his long pony tail and was at eye level with the gold chain around his tanned neck. Another California man who had the Hawaiian shirt and laid back lifestyle to match.  I remember his teeth looked like they had been capped.  Easy going and totally fun to be with and talk to.  I wanted more.  But there was no invitation to his house that was close by.  He talked of coming out to my house which was far away and it was too late to do that.  We parted and I never saw him again.  Long story.  Aren't they all.
So last night was my fourth kiss in a parking lot in a year.  A great bbq pork rib dinner outside in the sunshine at a little place I had been wanting to try for a long time.  A big truck driver fellow with money to spare and the rib dinner was fifteen dollars. He had beef brisket. I liked his eyes and his goatee.  Right away he had me laughing with a string of stories about living in this area all his life.  I knew he would make me smile and for the next two hours I listened to all his amazing tales. He was ADD apparently. He never stopped to take a breath but that was fine with me. I needed to get out of myself and he whisked me away to another world. We took a walk in the park after dinner and he was so nice to cuddle with on the bench with big strong arms and a warm easy going California body.
But after two hours of listening to the non stop stories I was ready to head back to my truck. We had kissed in the park but he had paused only moments from his dialogue to plant a good one on my lips. Then he went right back to the stories which were becoming more about the drinking escapades in his youth than about the history of the area.  I was bored and yet lulled into feeling he could be a friend.  He lives close by.  At my truck we kissed again and then again.  It was hard to leave him but there was no way my ears could take anymore.  The kisses were great and sometimes the nicest thing about a kiss is that it stops both parties from talking…
If you like someone's eyes and feel a spark when you kiss there is hope. There is a time to stop thinking so much and just feel each other. With two people who are searching for the touch of their most sensitive areas the lips are the most accessible erogenous zone.